Summer Series Resources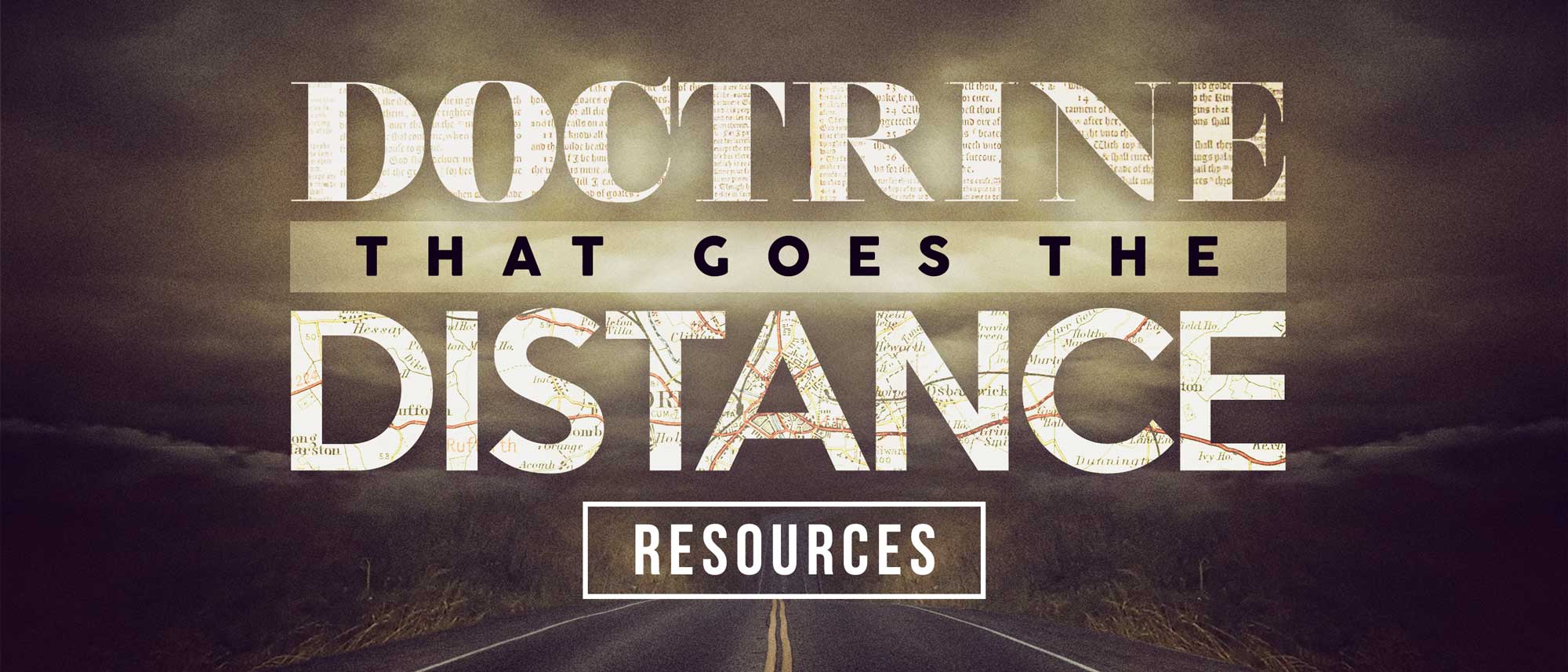 In a time when people are believing anything, or sometimes nothing at all, God's people are radically different. We believe God's Word. But just what are those core doctrines in God's Word that we believe? How should they affect us? What does it mean to build your life around absolute truth and not changing opinions? Discover this and more in FFC's summer series, "Doctrine that Goes the Distance."
---
SERIES memory verses
week 1 [trinity]
"But when the Helper comes, whom I will send to you from the Father, the Spirit of truth, who proceeds from the Father, he will bear witness about me." John 15:26 (ESV)
WEEK 2 [bibliology]
"All Scripture is breathed out by God and profitable for teaching, for reproof, for correction, and for training in righteousness, that the man of God may be complete, equipped for every good work." 2 Timothy 3:16–17 (ESV)
WEEK 3 [creation]
"By the word of the Lord the heavens were made, And all the host of them by the breath of His mouth." Psalm 33:6 (ESV)
WEEK 4 [demonology]
"Be sober-minded; be watchful. Your adversary the devil prowls around like a roaring lion, seeking someone to devour. Resist him, firm in your faith, knowing that the same kinds of suffering are being experienced by your brotherhood throughout the world." 1 Peter 5:8–9 (ESV)
WEEK 5 [angelOLOGY]
"For he will command his angels concerning you to guard you in all your ways." Psalm 91:11 (ESV)
"So God created man in his own image, in the image of God he created him; male and female he created them." Genesis 1:27 (ESV)
"Therefore, just as through one man sin entered the world, and death through sin, and thus death spread to all men, because all sinned." Romans 5:12 (ESV)
And the Word became flesh and dwelt among us, and we have seen his glory, glory as of the only Son from the Father, full of grace and truth." John 1:14 (ESV)
week 9 [soteriology 1]
"He himself bore our sins in his body on the tree, that we might die to sin and live to righteousness. By his wounds you have been healed." 1 Peter 2:24 (ESV)
"Blessed be the God and Father of our Lord Jesus Christ! According to his great mercy, he has caused us to be born again to a living hope through the resurrection of Jesus Christ from the dead." 1 Peter 1:3 (ESV)
"But the Helper, the Holy Spirit, whom the Father will send in my name, he will teach you all things and bring to your remembrance all that I have said to you." John 14:26 (ESV)
"And Jesus came and said to them, 'All authority in heaven and on earth has been given to me. 19 Go therefore and make disciples of all nations, baptizing them in the name of the Father and of the Son and of the Holy Spirit, 20 teaching them to observe all that I have commanded you. And behold, I am with you always, to the end of the age.'" Matthew 28:18-20 (ESV)
"For God is the King of all the earth; Sing praises with understanding. God reigns over the nations; God sits on His holy throne." Psalm 47:7-8 (ESV)
Series Resources
Understanding doctrine can seem daunting. In an effort to "keep the cookies on the bottom shelf," we have developed several resources to accompany this summer's teaching series.
The resources are scalable. If you want a little more information in a simple, easy-to-understand format, we've got you covered! If you want to go in-depth and study at a seminary-level, we've got you covered!
Series Overview
To grasp the big picture, here is an overview of the entire teaching series:
6/4/17

Trinity: God Is Doctrine of God (Theology Proper)

6/11/17
Revelation: God Speaks

Doctrine of the Word of God (Bibliology)
6/18/17
Creation: God Makes

Doctrine of Beginnings
6/25/17
Satan and Demons: Creation Rebels

Doctrine of Demonology
7/2/17
Angels: God Helps

Doctrine of Angelology
7/9/17
Man: God's Image Bearer

Doctrine of Humanity (Anthropology 1)
7/16/17
Fall: God Judges

Doctrine of Sin (Hamartiology)
7/23/17
Incarnation: God Comes

Doctrine of Christ (Christology)
7/30/17
Cross: God Dies

Doctrine of Redemption/Atonement (Soteriology 1)
8/6/17
Resurrection: God Saves

Doctrine of the Resurrection (Soteriology 2)
8/13/17
Holy Spirit: God Empowers

Doctrine of the Holy Spirit (Pneumatology).
8/20/17
Church: God Sends

Doctrine of the Church (Ecclesiology)
8/27/17
Kingdom: God Reigns

Doctrine of the Future/Last Things (Eschatology)
Video Components
If you want to get a simple understanding of each week's doctrine, we are providing a video lecture by Wayne Grudem. Each lecture is approximately 10 minutes long and has a set of notes to accompany the lecture. These video lectures are accessible via RightNow Media. If you haven't signed-up for your free account to RightNow Media, simply send an email to with RightNow Media in the subject box.
Recommended Books
Our teaching team agree that Dr. Wayne Grudem is a trusted source for biblical teaching on doctrine. Grudem's Systematic Theology is one of the cornerstones of contemporary teaching on Bible doctrine at the seminary level. We are recommending the following books to accompany this teaching series. They are scaled from simple, bit-sized chapters to Grudem's full textbook on Systematic Theology.
Christian Beliefs: Twenty Basics Every Christian Should Know
This readable guide to twenty basic Christian beliefs is a condensation of Wayne Grudem's award-winning book on systematic theology, prized by pastors and teachers everywhere. Pages: 155. Cost: $10.00. [Amazon.com]
Bible Doctrine: Essential Teachings of the Christian Faith
Bible Doctrine takes a highly commended upper-level textbook on systematic theology and makes it accessible to the average reader. Pages: 528. Cost: $23.00. [Amazon.com]
Systematic Theology: An Introduction to Biblical Doctrine
The Christian church has a long tradition of systematic theology, that is, studying theology and doctrine organized around fairly standard categories such as the Word of God, redemption, and Jesus Christ. Grudem's Systematic Theology is standard textbook for seminary students. Pages: 1264. Cost: $27.00. [Amazon.com]